News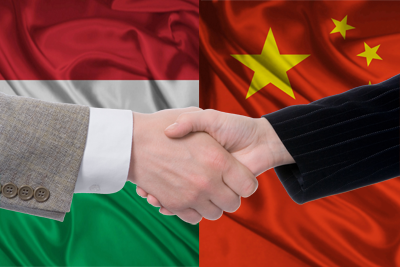 Article published in China's People's Daily newspaper (RenminRibao)
by Xiao Qian, Ambassador of the People's Republic of China in Hungary,
12 February 2014.
Hand in hand with the friendly nation of inventors
Despite the fact that I am working for the first time in Hungary, I did not feel as a stranger here, rather I think of sympathy for the Hungarians.

[…]
Hungary is not large in terms of area, the population of the country is also small, but still unequaled view of the results, as they so greatly contributed to the development of human civilization, far more than the area and population of the country. A great number of inventions are coming from here as: the ballpoint pen, the vitamin C, the hologram and the Basic programming language creator, but also in addition to these other inventions, innovations and theories seen light here. Therefore it is right to call Hungary the homeland of inventors. Here is an example that amazed the whole world, the Rubik's Cube, which also proves the superiority of the Hungarian inventor mind. These inventions greatly changed patterns of production and way of life of mankind; therefore their significance is invaluable.

Hungary is the home of Petofi and Liszt, among many great artists,writers,poets, as well as 14 Nobel Prize-winning scientists' home.

[…]
Hungary also achieved a high position of power for himself in the sport as well, providing excellent performance in all previous Olympics.

[…]
Hungary is one of the few European countries that still bear traces of its oriental origin. The Hungarian ancestors came from the east, we can recognize several similarities with Chinese culture and tradition such as the order of first name, last name, the place names and the dates, the traditional Hungarian folk music and the Yugu ethnicities songs from Gansu Province are surprisingly similar and the list goes on. Many of my Hungarian friends put it this way: "We were neighbors once, so now let's be friends"

Hungary was among the first establishing diplomatic relations with the new China. This was 65 years ago - the two countries was based their relations on honor of one another, equal treatment and mutual assistance. The Chinese -Hungarian friendship was built on deep traditions and solid foundations, these promote long-term cooperation between the two nations, which is also key to the rapid development of relations: this is the secret of good relations between the two countries.

[…]
Hungary's biggest trading partner outside Europe is China, and Hungary is the most important investment destination in Central and Eastern European region for China.

[…]
It gives us a cause for joy that the two countries' traditional friendship is getting stronger day by day, and that the relations between Chinese and Hungarian people are also becoming more direct. I believe that the development of bilateral relations will continue to progress, for a common better future.


---
Click here to discover the Eu-Xperience Conferences in 2014!